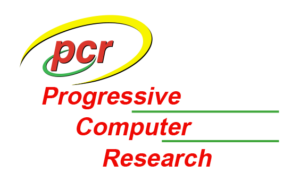 In the age of COVID-19, businesses need a reliable way for employees to work and communicate from their homes. Giving out your personal cell phone number for business purposes is not a good idea. You are opening yourself up to potential marketing calls while blurring the line between between business and personal time.
Companies with cloud based unified communications solutions allow users to work from anywhere in the world while maintaining the separation between business and personal time and space.
At Progressive Computer Research, we've taken the best technologies and components used by the world's largest corporations and incorporated them into one open system. This approach eliminates any single point of failure that other closed system IP phone providers are threatened by. We recommend handsets from Yealink, which provides equipment to the G20 and the United Nations. Our system software is used by American Express, MIT, Pepsi, and Boeing. The systems are hosted on Amazon and Microsoft's cloud infrastructure, and our voice infrastructure provider provides service to Google, Zoom, RingCentral, Skype, LogMeIn, and GoDaddy.

Business as Usual During Covid-19
Seamless transition to a remote workforce

Maximize productivity from anywhere

Keep connected to customers and employees

Integrated Mobile Apps, Video, LiveChat
Apps



Remote workers or employees on the go can make telephone calls free of charge with the 3CX softphone and mobile application. Easily connect the telephone systems of remote offices, improve communication, and make interoffice phone calls free.
Includes VoIP apps for Android and iOS, softphones for Mac and Windows which allow you to take your office extension with you anywhere. With a modern and intuitive user-interface, integrated softphone applications offer a full range of Unified Communications features including presence, chat, conferencing and more.
Answer calls to your office phone extension via your mobile device and transfer to colleagues without asking customers to call another number.
Delivers the one number concept meaning that you no longer have to give out your personal mobile number. Set your status so your colleagues can see whether or not you are available to take a call.
Make and receive calls from your smartphone – at no additional cost

Set your status to available, away & out of office from your smartphone

One number concept

See the presence of your colleagues from anywhere
Video Conferencing


Video Conferencing included free. When voice communication just isn't enough, integrated video conferencing solution saves you travel time and money by allowing users to connect and collaborate in real-time and enjoy face-to-face communication wherever they are. Attend meetings around the world with the cutting edge technology of the WebRTC-based WebMeeting.
Video conferences can be easily launched through the web client with a few mouse-clicks and can be used for a wide variety of everyday communication needs.
Participants will be able to seamlessly join meetings without the need to download any additional software or plug-ins, enabling a better user experience for your partners, customers and employees.
Clientless

One-Click Conference

Interoperability with VoIP and video

Bandwidth management and control

Remote control and screen sharing for quick & easy troubleshooting

Pre-upload PowerPoints & PDFs for crisp, responsive delivery
Live Chat & Talk: Connect with customers from your WordPress website
Live Chat & Talk plugin allows your website visitors to chat and call your company in real-time. No need to call your 800 number – they can connect with a single click. Connect visitors directly to your sales team! Calls are forwarded to your phone system free of charge using WebRTC technology.
The plugin is free, the calls and chats are free.
Capture your website visitors once they're on your site

Help them find what they're looking for in real time

Elevate chat to voice or video call – Free of charge

Avoid customers having to call a number and speak to another team/agent

Increase customer satisfaction – no need to dial a number
Quick Feature List
Import / Export Extensions via CSV

SIP Trunks / Gateways Support

Call Routing by DID & CID (DDI)

Extensive Codec Support

Receive Voice Mail via Email

Calling Line Identification Presentation (CLIP)

Call Transfers (Blind & Attendant)

Calling Line Identification Restriction (CLIR)

Call Forward on Busy (CFB)

Call Forward on No Answer (CFU)

Hold (CW) incl. Custom Music on Hold

Intercom / Paging

Call Parking / Pickup

Busy Lamp Field (BLF)

Real Time System Status

Easy Backup and Restore (incl. Scheduled Backup)

Amazon, Google Cloud, Microsoft Azure

SBC Connectivity

Voicemail

Sennheiser Headset Integration

Auto Attendant / Digital Receptionist

Ring Extension & Mobile Simultaneously

Integrated Fax Server (Central and per User)

Supported SIP Phones Integration

Manage IP Phones Network Wide

Automatic Plug & Play Phone Provisioning

Apps: Web Client, iOS, Android, Windows, Mac

Audio Bridge

Directory (Company & Private Phonebook)

Call Logging

Click2Call (Browser Extension)

Click2Talk

Click2Meet

Website Live Chat and Talk

SLA Alerting

Switchboard

Wallboard

Callback

Call & Queue Reporting

Call Recording Transcription and Search

Barge In / Listen In / Whisper

See Group Recordings